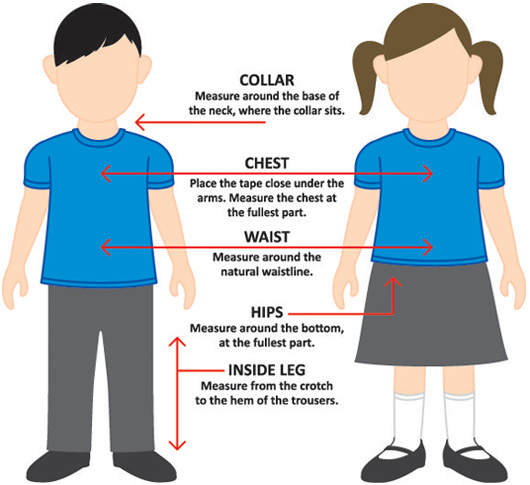 Neck Measurement:
When you are taking the neck measurement, leave 2 fingers between the tape and the skin. This will ensure that when the top button is fastened, that the collar is not too tight.
Chest Measurement:
Measure around the fullest part of the chest, making sure that the tape is level under the arms and across the shoulder blades. Make sure that your child is relaxed when measured so that you get a true measurement.
Waist Measurement:
Measure around the waist at the natural waistline (smallest part). In younger children this is usually midway between the bottom rib and hip bone.
Inside Leg:
When measuring, make sure you are stood up straight with shoes on. Measure from the top of the leg (inside near to the crotch area) down to where you want the trousers to finish. This is usually 1 inch from the ground.